Sponsored walk raises over £650 for The Glacier Trust's work in Nepal
Yesterday on the last day of the Premier League season, two TGT supporters took on and completed an incredible 27.4 mile sponsored walk across London. The idea, dreamed up by Glyn Phillips (younger brother of TGT Co-Director, Morgan) was to visit as many Premier League grounds as possible in one day, on foot!
Glyn is a Spurs fan, so it was quickly decided that the walk should start at Wembley stadium (Spurs' temporary home) and end at White Hart Lane, (Spurs' true home!) Glyn was joined by his good friend Adam Lewitt (a Man Utd fan) for the walk which also took in Stamford Bridge, the Emirates Stadium and the London Stadium.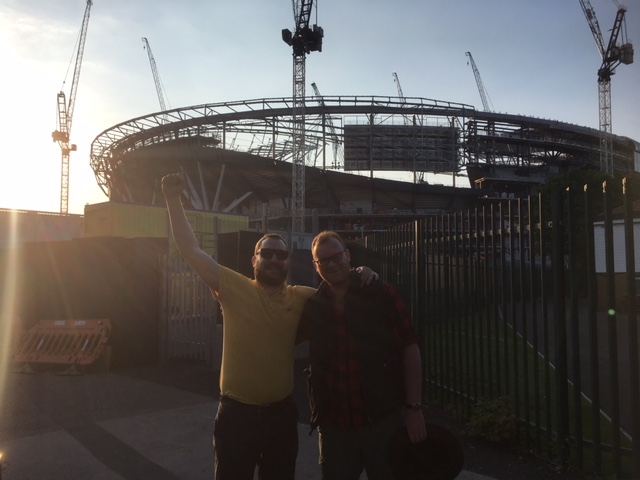 They completed the walk in just under 11 hours. and have so far raised an incredible £655 for our Climate Change Adaptation work in Nepal. There is still time to sponsor them. Please do, 100% of the money raised will go to our project work.
Their sense of humour stayed intact right to the last, we caught up with Adam just after the finish line:
I'm exhausted. It was a walk of two halves, we covered a lot ground and really had to dig deep. Late on, over there on Tottenham Marshes, I didn't think we were going to make it, Glyn seemed to want to cover every blade of grass, it was incredible to see him play on through the pain barrier like that. He deserves a lot of credit.
Glyn summed up the performance:
I'm just delighted we managed to hold our nerve and get over the line. Adam was an absolute rock out there, he just kept driving us on, I don't know how he does it. What can I say? It is so great to finish here in front of all our supporters. Thanks to everyone who has been behind us on this incredible journey.
If you would like to take on a sponsored challenge on behalf of The Glacier Trust, please visit our bespoke challenges page and get in touch.